Details
1999 Dodge 2500 and 3500 5.9L cummins engine 24 valve engine.  The engine was removed from a truck that was involved in an accident.  We had the truck running before the engine was removed and there appeared to be no blow by and the engine ran smoothly.  The engine is complete other then the computer has been removed.  The truck showed that it had 195k miles on the odometer.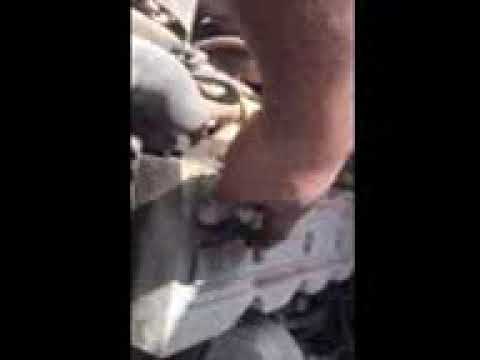 1999 Cummins 5.9L tag as53031 - YouTube
Video will open in a new window
Using the eBay App? Paste link into a browser window:
[isdntekvideo]
Please use the compatibility guide as a loose guideline and make sure these parts will work for you before ordering.  There are a couple of different ones and I'm not 100% of how interchangeable they are.
Shipping: Parts will be dropped off at a shipping depot within 3 business days and a tracking number will be uploaded to ebay 2 days later.  The engine will be shipped truck freight so if a business address is provided it will come right to your door otherwise it will go to the closest depot and be held for pickup.
Parting out the complete truck so if you are looking for anything else or have any questions please feel free to send me a message through eBay.
Fitment Details
| Year | Make | Model | Trim | Engine | Notes |
| --- | --- | --- | --- | --- | --- |
| 1998 | Dodge | Ram 2500 | Base Extended Cab Pickup 2-Door | 8.0L 7990CC 488Cu. In. V10 GAS OHV Naturally Aspirated | |
| 1998 | Dodge | Ram 2500 | Base Extended Cab Pickup 2-Door | 5.9L 359Cu. In. l6 DIESEL OHV Turbocharged | |
| 1998 | Dodge | Ram 2500 | Base Crew Cab Pickup 4-Door | 5.9L 359Cu. In. l6 DIESEL OHV Turbocharged | |
| 1998 | Dodge | Ram 2500 | Base Extended Cab Pickup 4-Door | 5.9L 360Cu. In. V8 GAS OHV Naturally Aspirated | |
| 1998 | Dodge | Ram 2500 | Base Extended Cab Pickup 4-Door | 8.0L 7990CC 488Cu. In. V10 GAS OHV Naturally Aspirated | |
| 1998 | Dodge | Ram 2500 | Base Standard Cab Pickup 2-Door | 5.9L 359Cu. In. l6 DIESEL OHV Turbocharged | |
| 1998 | Dodge | Ram 2500 | Base Crew Cab Pickup 4-Door | 8.0L 7990CC 488Cu. In. V10 GAS OHV Naturally Aspirated | |
| 1998 | Dodge | Ram 2500 | Base Cab & Chassis 2-Door | 5.9L 359Cu. In. l6 DIESEL OHV Turbocharged | |
| 1998 | Dodge | Ram 2500 | Base Standard Cab Pickup 2-Door | 5.9L 360Cu. In. V8 GAS OHV Naturally Aspirated | |
| 1998 | Dodge | Ram 2500 | Base Extended Cab Pickup 2-Door | 5.9L 360Cu. In. V8 GAS OHV Naturally Aspirated | |
| 1998 | Dodge | Ram 2500 | Base Cab & Chassis 2-Door | 5.9L 360Cu. In. V8 GAS OHV Naturally Aspirated | |
| 1998 | Dodge | Ram 2500 | Base Cab & Chassis 2-Door | 8.0L 7990CC 488Cu. In. V10 GAS OHV Naturally Aspirated | |
| 1998 | Dodge | Ram 2500 | Limited Standard Cab Pickup 2-Door | 5.9L 360Cu. In. V8 GAS OHV Naturally Aspirated | |
| 1998 | Dodge | Ram 2500 | Base Crew Cab Pickup 4-Door | 5.9L 360Cu. In. V8 GAS OHV Naturally Aspirated | |
| 1998 | Dodge | Ram 2500 | Lujo Standard Cab Pickup 2-Door | 5.9L 360Cu. In. V8 GAS OHV Naturally Aspirated | |
| 1998 | Dodge | Ram 2500 | Base Extended Cab Pickup 4-Door | 5.9L 359Cu. In. l6 DIESEL OHV Turbocharged | |
| 1998 | Dodge | Ram 2500 | Custom Standard Cab Pickup 2-Door | 5.9L 360Cu. In. V8 GAS SOHC Naturally Aspirated | |
| 1998 | Dodge | Ram 2500 | Base Standard Cab Pickup 2-Door | 5.9L 360Cu. In. V8 GAS SOHC Naturally Aspirated | |
| 1998 | Dodge | Ram 2500 | Custom Standard Cab Pickup 2-Door | 5.9L 360Cu. In. V8 GAS OHV Naturally Aspirated | |
| 1998 | Dodge | Ram 2500 | Base Standard Cab Pickup 2-Door | 5.9L 5899CC 360Cu. In. V8 GAS OHV Naturally Aspirated | |
| 1998 | Dodge | Ram 2500 | Base Standard Cab Pickup 2-Door | 8.0L 7990CC 488Cu. In. V10 GAS OHV Naturally Aspirated | |
| 1996 | Dodge | Ram 3500 | Base Standard Cab Pickup 2-Door | 5.9L 360Cu. In. V8 GAS OHV Naturally Aspirated | |
| 1996 | Dodge | Ram 3500 | Base Extended Cab Pickup 2-Door | 8.0L 7990CC 488Cu. In. V10 GAS OHV Naturally Aspirated | |
| 1996 | Dodge | Ram 3500 | Base Extended Cab Pickup 2-Door | 5.9L 360Cu. In. V8 GAS OHV Naturally Aspirated | |
| 1996 | Dodge | Ram 3500 | Custom Standard Cab Pickup 2-Door | 5.9L 360Cu. In. V8 GAS OHV Naturally Aspirated | |
| 1996 | Dodge | Ram 3500 | Base Standard Cab Pickup 2-Door | 5.9L 359Cu. In. l6 DIESEL OHV Turbocharged | |
| 1996 | Dodge | Ram 3500 | Base Cab & Chassis 2-Door | 8.0L 7990CC 488Cu. In. V10 GAS OHV Naturally Aspirated | |
| 1996 | Dodge | Ram 3500 | Base Extended Cab Pickup 2-Door | 5.9L 359Cu. In. l6 DIESEL OHV Turbocharged | |
| 1996 | Dodge | Ram 3500 | Base Standard Cab Pickup 2-Door | 8.0L 7990CC 488Cu. In. V10 GAS OHV Naturally Aspirated | |
| 1996 | Dodge | Ram 3500 | Base Cab & Chassis 2-Door | 5.9L 360Cu. In. V8 GAS OHV Naturally Aspirated | |
| 1996 | Dodge | Ram 3500 | Base Cab & Chassis 2-Door | 5.9L 359Cu. In. l6 DIESEL OHV Turbocharged | |
| 1997 | Dodge | Ram 3500 | Base Standard Cab Pickup 2-Door | 5.9L 360Cu. In. V8 GAS OHV Naturally Aspirated | |
| 1997 | Dodge | Ram 3500 | Base Standard Cab Pickup 2-Door | 8.0L 7990CC 488Cu. In. V10 GAS OHV Naturally Aspirated | |
| 1997 | Dodge | Ram 3500 | Base Standard Cab Pickup 2-Door | 5.9L 359Cu. In. l6 DIESEL OHV Turbocharged | |
| 1997 | Dodge | Ram 3500 | Base Cab & Chassis 2-Door | 8.0L 7990CC 488Cu. In. V10 GAS OHV Naturally Aspirated | |
| 1997 | Dodge | Ram 3500 | Custom Standard Cab Pickup 2-Door | 5.9L 360Cu. In. V8 GAS OHV Naturally Aspirated | |
| 1997 | Dodge | Ram 3500 | Base Extended Cab Pickup 2-Door | 5.9L 360Cu. In. V8 GAS OHV Naturally Aspirated | |
| 1997 | Dodge | Ram 3500 | Base Cab & Chassis 2-Door | 5.9L 360Cu. In. V8 GAS OHV Naturally Aspirated | |
| 1997 | Dodge | Ram 3500 | Base Extended Cab Pickup 2-Door | 5.9L 359Cu. In. l6 DIESEL OHV Turbocharged | |
| 1997 | Dodge | Ram 3500 | Base Extended Cab Pickup 2-Door | 8.0L 7990CC 488Cu. In. V10 GAS OHV Naturally Aspirated | |
| 1997 | Dodge | Ram 3500 | Base Cab & Chassis 2-Door | 5.9L 359Cu. In. l6 DIESEL OHV Turbocharged | |
| 1998 | Dodge | Ram 3500 | Base Extended Cab Pickup 4-Door | 8.0L 7990CC 488Cu. In. V10 GAS OHV Naturally Aspirated | |
| 1998 | Dodge | Ram 3500 | Base Crew Cab Pickup 4-Door | 8.0L 7990CC 488Cu. In. V10 GAS OHV Naturally Aspirated | |
| 1998 | Dodge | Ram 3500 | Base Crew Cab Pickup 4-Door | 5.9L 360Cu. In. V8 GAS OHV Naturally Aspirated | |
| 1998 | Dodge | Ram 3500 | Base Extended Cab Pickup 4-Door | 5.9L 359Cu. In. l6 DIESEL OHV Turbocharged | |
| 1998 | Dodge | Ram 3500 | Base Crew Cab Pickup 4-Door | 5.9L 359Cu. In. l6 DIESEL OHV Turbocharged | |
| 1998 | Dodge | Ram 3500 | Base Standard Cab Pickup 2-Door | 5.9L 359Cu. In. l6 DIESEL OHV Turbocharged | |
| 1998 | Dodge | Ram 3500 | Base Extended Cab Pickup 4-Door | 5.9L 360Cu. In. V8 GAS OHV Naturally Aspirated | |
| 1998 | Dodge | Ram 3500 | Base Cab & Chassis 2-Door | 5.9L 360Cu. In. V8 GAS OHV Naturally Aspirated | |
| 1998 | Dodge | Ram 3500 | Base Standard Cab Pickup 2-Door | 8.0L 7990CC 488Cu. In. V10 GAS OHV Naturally Aspirated | |
| 1998 | Dodge | Ram 3500 | Base Standard Cab Pickup 2-Door | 5.9L 360Cu. In. V8 GAS OHV Naturally Aspirated | |
| 1998 | Dodge | Ram 3500 | Base Cab & Chassis 2-Door | 5.9L 359Cu. In. l6 DIESEL OHV Turbocharged | |
| 1998 | Dodge | Ram 3500 | Base Cab & Chassis 2-Door | 8.0L 7990CC 488Cu. In. V10 GAS OHV Naturally Aspirated | |
| 1998 | Dodge | Ram 3500 | Custom Standard Cab Pickup 2-Door | 5.9L 360Cu. In. V8 GAS OHV Naturally Aspirated | |