Details
2000-2003 Ford F350 F450 7.3L powerstroke diesel motor assembly, the engine was removed from a truck that was involved in an accident.  There was a some blow by when the engine was running before it was removed please see video.  The pump and injectors have been removed otherwise the engine comes as it is shown in the pictures.  The truck had 150k miles that it was removed from.

This engine has been discounted due to the bit of visible blow by you can see in the video and is being sold as is with no warranty.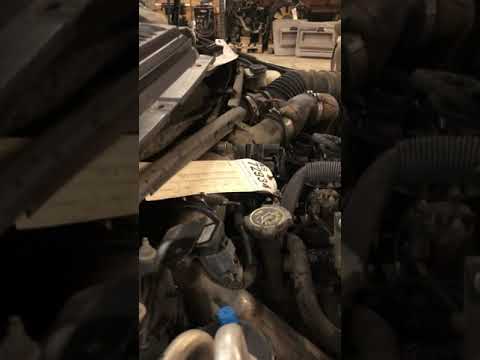 tag as72934 7.3L Engine - YouTube
Video will open in a new window
Using the eBay App? Paste link into a browser window:
[isdntekvideo]
Please use the compatibility guide as a loose guideline and confirm that this part is going to work for your application.
The part will be shipped through a packaging depot it will be dropped off there within 3 business days and they will email me a tracking number that will be uploaded onto ebay within a couple of days. The motor will be shipped truck freight if a business address is provided then it will come right to your door otherwise is will go to the closest depot and be held for pickup.
Parting out lots of 1999-2010 Ford F350's if you have any questions regarding this listing or any other parts requests please contact me through ebay.
Fitment Details
| Year | Make | Model | Trim | Engine | Notes |
| --- | --- | --- | --- | --- | --- |
| 1999 | Ford | F-250 Super Duty | XLT Standard Cab Pickup 2-Door | 6.8L 415Cu. In. V10 GAS SOHC Naturally Aspirated | |
| 1999 | Ford | F-250 Super Duty | XLT Standard Cab Pickup 2-Door | 7.3L 445Cu. In. V8 DIESEL OHV Turbocharged | |
| 1999 | Ford | F-250 Super Duty | Lariat Standard Cab Pickup 2-Door | 5.4L 330Cu. In. V8 GAS SOHC Naturally Aspirated | |
| 1999 | Ford | F-250 Super Duty | Lariat Extended Cab Pickup 4-Door | 5.4L 330Cu. In. V8 GAS SOHC Naturally Aspirated | |
| 1999 | Ford | F-250 Super Duty | XLT Crew Cab Pickup 4-Door | 5.4L 330Cu. In. V8 GAS SOHC Naturally Aspirated | |
| 1999 | Ford | F-250 Super Duty | XLT Extended Cab Pickup 4-Door | 6.8L 415Cu. In. V10 GAS SOHC Naturally Aspirated | |
| 1999 | Ford | F-250 Super Duty | XL Extended Cab Pickup 4-Door | 7.3L 445Cu. In. V8 DIESEL OHV Turbocharged | |
| 1999 | Ford | F-250 Super Duty | Lariat Crew Cab Pickup 4-Door | 6.8L 415Cu. In. V10 GAS SOHC Naturally Aspirated | |
| 1999 | Ford | F-250 Super Duty | Lariat Standard Cab Pickup 2-Door | 6.8L 415Cu. In. V10 GAS SOHC Naturally Aspirated | |
| 1999 | Ford | F-250 Super Duty | XL Crew Cab Pickup 4-Door | 7.3L 445Cu. In. V8 DIESEL OHV Turbocharged | |
| 1999 | Ford | F-250 Super Duty | Lariat Extended Cab Pickup 4-Door | 6.8L 415Cu. In. V10 GAS SOHC Naturally Aspirated | |
| 1999 | Ford | F-250 Super Duty | Lariat Crew Cab Pickup 4-Door | 7.3L 445Cu. In. V8 DIESEL OHV Turbocharged | |
| 1999 | Ford | F-250 Super Duty | XLT Extended Cab Pickup 4-Door | 7.3L 445Cu. In. V8 DIESEL OHV Turbocharged | |
| 1999 | Ford | F-250 Super Duty | Lariat Crew Cab Pickup 4-Door | 5.4L 330Cu. In. V8 GAS SOHC Naturally Aspirated | |
| 1999 | Ford | F-250 Super Duty | XL Standard Cab Pickup 2-Door | 7.3L 445Cu. In. V8 DIESEL OHV Turbocharged | |
| 1999 | Ford | F-250 Super Duty | XLT Extended Cab Pickup 4-Door | 5.4L 330Cu. In. V8 GAS SOHC Naturally Aspirated | |
| 1999 | Ford | F-250 Super Duty | XL Extended Cab Pickup 4-Door | 5.4L 330Cu. In. V8 GAS SOHC Naturally Aspirated | |
| 1999 | Ford | F-250 Super Duty | XLT Standard Cab Pickup 2-Door | 5.4L 330Cu. In. V8 GAS SOHC Naturally Aspirated | |
| 1999 | Ford | F-250 Super Duty | Lariat Standard Cab Pickup 2-Door | 7.3L 445Cu. In. V8 DIESEL OHV Turbocharged | |
| 1999 | Ford | F-250 Super Duty | XL Extended Cab Pickup 4-Door | 6.8L 415Cu. In. V10 GAS SOHC Naturally Aspirated | |
| 1999 | Ford | F-250 Super Duty | XL Standard Cab Pickup 2-Door | 5.4L 330Cu. In. V8 GAS SOHC Naturally Aspirated | |
| 1999 | Ford | F-250 Super Duty | XL Crew Cab Pickup 4-Door | 6.8L 415Cu. In. V10 GAS SOHC Naturally Aspirated | |
| 1999 | Ford | F-250 Super Duty | XL Crew Cab Pickup 4-Door | 5.4L 330Cu. In. V8 GAS SOHC Naturally Aspirated | |
| 1999 | Ford | F-250 Super Duty | Lariat Extended Cab Pickup 4-Door | 7.3L 445Cu. In. V8 DIESEL OHV Turbocharged | |
| 1999 | Ford | F-250 Super Duty | XLT Crew Cab Pickup 4-Door | 7.3L 445Cu. In. V8 DIESEL OHV Turbocharged | |
| 1999 | Ford | F-250 Super Duty | XLT Crew Cab Pickup 4-Door | 6.8L 415Cu. In. V10 GAS SOHC Naturally Aspirated | |
| 1999 | Ford | F-250 Super Duty | XL Standard Cab Pickup 2-Door | 6.8L 415Cu. In. V10 GAS SOHC Naturally Aspirated | |
| 2000 | Ford | F-250 Super Duty | XL Standard Cab Pickup 2-Door | 6.8L 415Cu. In. V10 GAS SOHC Naturally Aspirated | |
| 2000 | Ford | F-250 Super Duty | Lariat Crew Cab Pickup 4-Door | 6.8L 415Cu. In. V10 GAS SOHC Naturally Aspirated | |
| 2000 | Ford | F-250 Super Duty | XLT Extended Cab Pickup 4-Door | 6.8L 415Cu. In. V10 GAS SOHC Naturally Aspirated | |
| 2000 | Ford | F-250 Super Duty | XL Crew Cab Pickup 4-Door | 7.3L 445Cu. In. V8 DIESEL OHV Turbocharged | |
| 2000 | Ford | F-250 Super Duty | XLT Extended Cab Pickup 4-Door | 5.4L 330Cu. In. V8 GAS SOHC Naturally Aspirated | |
| 2000 | Ford | F-250 Super Duty | XLT Standard Cab Pickup 2-Door | 5.4L 330Cu. In. V8 GAS SOHC Naturally Aspirated | |
| 2000 | Ford | F-250 Super Duty | XLT Standard Cab Pickup 2-Door | 7.3L 445Cu. In. V8 DIESEL OHV Turbocharged | |
| 2000 | Ford | F-250 Super Duty | XL Extended Cab Pickup 4-Door | 6.8L 415Cu. In. V10 GAS SOHC Naturally Aspirated | |
| 2000 | Ford | F-250 Super Duty | Lariat Extended Cab Pickup 4-Door | 6.8L 415Cu. In. V10 GAS SOHC Naturally Aspirated | |
| 2000 | Ford | F-250 Super Duty | XLT Crew Cab Pickup 4-Door | 5.4L 330Cu. In. V8 GAS SOHC Naturally Aspirated | |
| 2000 | Ford | F-250 Super Duty | XLT Crew Cab Pickup 4-Door | 6.8L 415Cu. In. V10 GAS SOHC Naturally Aspirated | |
| 2000 | Ford | F-250 Super Duty | XL Crew Cab Pickup 4-Door | 5.4L 330Cu. In. V8 GAS SOHC Naturally Aspirated | |
| 2000 | Ford | F-250 Super Duty | XL Extended Cab Pickup 4-Door | 5.4L 330Cu. In. V8 GAS SOHC Naturally Aspirated | |
| 2000 | Ford | F-250 Super Duty | Lariat Crew Cab Pickup 4-Door | 5.4L 330Cu. In. V8 GAS SOHC Naturally Aspirated | |
| 2000 | Ford | F-250 Super Duty | XL Standard Cab Pickup 2-Door | 5.4L 330Cu. In. V8 GAS SOHC Naturally Aspirated | |
| 2000 | Ford | F-250 Super Duty | XLT Crew Cab Pickup 4-Door | 7.3L 445Cu. In. V8 DIESEL OHV Turbocharged | |
| 2000 | Ford | F-250 Super Duty | Lariat Extended Cab Pickup 4-Door | 5.4L 330Cu. In. V8 GAS SOHC Naturally Aspirated | |
| 2000 | Ford | F-250 Super Duty | Lariat Crew Cab Pickup 4-Door | 7.3L 445Cu. In. V8 DIESEL OHV Turbocharged | |
| 2000 | Ford | F-250 Super Duty | XLT Extended Cab Pickup 4-Door | 7.3L 445Cu. In. V8 DIESEL OHV Turbocharged | |
| 2000 | Ford | F-250 Super Duty | Lariat Standard Cab Pickup 2-Door | 6.8L 415Cu. In. V10 GAS SOHC Naturally Aspirated | |
| 2000 | Ford | F-250 Super Duty | XL Standard Cab Pickup 2-Door | 7.3L 445Cu. In. V8 DIESEL OHV Turbocharged | |
| 2000 | Ford | F-250 Super Duty | Lariat Standard Cab Pickup 2-Door | 7.3L 445Cu. In. V8 DIESEL OHV Turbocharged | |
| 2000 | Ford | F-250 Super Duty | XL Crew Cab Pickup 4-Door | 6.8L 415Cu. In. V10 GAS SOHC Naturally Aspirated | |
| 2000 | Ford | F-250 Super Duty | Lariat Extended Cab Pickup 4-Door | 7.3L 445Cu. In. V8 DIESEL OHV Turbocharged | |
| 2000 | Ford | F-250 Super Duty | Lariat Standard Cab Pickup 2-Door | 5.4L 330Cu. In. V8 GAS SOHC Naturally Aspirated | |
| 2000 | Ford | F-250 Super Duty | XL Extended Cab Pickup 4-Door | 7.3L 445Cu. In. V8 DIESEL OHV Turbocharged | |
| 2000 | Ford | F-250 Super Duty | XLT Standard Cab Pickup 2-Door | 6.8L 415Cu. In. V10 GAS SOHC Naturally Aspirated | |
| 2001 | Ford | F-250 Super Duty | XL Crew Cab Pickup 4-Door | 7.3L 445Cu. In. V8 DIESEL OHV Turbocharged | |
| 2001 | Ford | F-250 Super Duty | XL Extended Cab Pickup 4-Door | 5.4L 330Cu. In. V8 GAS SOHC Naturally Aspirated | |
| 2001 | Ford | F-250 Super Duty | XL Crew Cab Pickup 4-Door | 5.4L 330Cu. In. V8 GAS SOHC Naturally Aspirated | |
| 2001 | Ford | F-250 Super Duty | XL Standard Cab Pickup 2-Door | 6.8L 415Cu. In. V10 GAS SOHC Naturally Aspirated | |
| 2001 | Ford | F-250 Super Duty | XL Standard Cab Pickup 2-Door | 5.4L 330Cu. In. V8 GAS SOHC Naturally Aspirated | |
| 2001 | Ford | F-250 Super Duty | Lariat Extended Cab Pickup 4-Door | 5.4L 330Cu. In. V8 GAS SOHC Naturally Aspirated | |
| 2001 | Ford | F-250 Super Duty | XLT Extended Cab Pickup 4-Door | 5.4L 330Cu. In. V8 GAS SOHC Naturally Aspirated | |
| 2001 | Ford | F-250 Super Duty | XLT Standard Cab Pickup 2-Door | 5.4L 330Cu. In. V8 GAS SOHC Naturally Aspirated | |
| 2001 | Ford | F-250 Super Duty | Lariat Crew Cab Pickup 4-Door | 7.3L 445Cu. In. V8 DIESEL OHV Turbocharged | |
| 2001 | Ford | F-250 Super Duty | XLT Crew Cab Pickup 4-Door | 5.4L 330Cu. In. V8 GAS SOHC Naturally Aspirated | |
| 2001 | Ford | F-250 Super Duty | XLT Standard Cab Pickup 2-Door | 7.3L 445Cu. In. V8 DIESEL OHV Turbocharged | |
| 2001 | Ford | F-250 Super Duty | XL Standard Cab Pickup 2-Door | 7.3L 445Cu. In. V8 DIESEL OHV Turbocharged | |
| 2001 | Ford | F-250 Super Duty | XLT Extended Cab Pickup 4-Door | 6.8L 415Cu. In. V10 GAS SOHC Naturally Aspirated | |
| 2001 | Ford | F-250 Super Duty | XLT Standard Cab Pickup 2-Door | 6.8L 415Cu. In. V10 GAS SOHC Naturally Aspirated | |
| 2001 | Ford | F-250 Super Duty | XL Extended Cab Pickup 4-Door | 7.3L 445Cu. In. V8 DIESEL OHV Turbocharged | |
| 2001 | Ford | F-250 Super Duty | Lariat Crew Cab Pickup 4-Door | 5.4L 330Cu. In. V8 GAS SOHC Naturally Aspirated | |
| 2001 | Ford | F-250 Super Duty | Lariat Extended Cab Pickup 4-Door | 6.8L 415Cu. In. V10 GAS SOHC Naturally Aspirated | |
| 2001 | Ford | F-250 Super Duty | Lariat Extended Cab Pickup 4-Door | 7.3L 445Cu. In. V8 DIESEL OHV Turbocharged | |
| 2001 | Ford | F-250 Super Duty | XL Crew Cab Pickup 4-Door | 6.8L 415Cu. In. V10 GAS SOHC Naturally Aspirated | |
| 2001 | Ford | F-250 Super Duty | XLT Crew Cab Pickup 4-Door | 6.8L 415Cu. In. V10 GAS SOHC Naturally Aspirated | |
| 2001 | Ford | F-250 Super Duty | XLT Extended Cab Pickup 4-Door | 7.3L 445Cu. In. V8 DIESEL OHV Turbocharged | |
| 2001 | Ford | F-250 Super Duty | Lariat Crew Cab Pickup 4-Door | 6.8L 415Cu. In. V10 GAS SOHC Naturally Aspirated | |
| 2001 | Ford | F-250 Super Duty | XLT Crew Cab Pickup 4-Door | 7.3L 445Cu. In. V8 DIESEL OHV Turbocharged | |
| 2001 | Ford | F-250 Super Duty | XL Extended Cab Pickup 4-Door | 6.8L 415Cu. In. V10 GAS SOHC Naturally Aspirated | |
| 2002 | Ford | F-250 Super Duty | XL Extended Cab Pickup 4-Door | 5.4L 330Cu. In. V8 GAS SOHC Naturally Aspirated | |
| 2002 | Ford | F-250 Super Duty | Lariat Extended Cab Pickup 4-Door | 7.3L 445Cu. In. V8 DIESEL OHV Turbocharged | |
| 2002 | Ford | F-250 Super Duty | XLT Extended Cab Pickup 4-Door | 6.8L 415Cu. In. V10 GAS SOHC Naturally Aspirated | |
| 2002 | Ford | F-250 Super Duty | XLT Standard Cab Pickup 2-Door | 5.4L 330Cu. In. V8 GAS SOHC Naturally Aspirated | |
| 2002 | Ford | F-250 Super Duty | Lariat Extended Cab Pickup 4-Door | 5.4L 330Cu. In. V8 GAS SOHC Naturally Aspirated | |
| 2002 | Ford | F-250 Super Duty | XLT Extended Cab Pickup 4-Door | 7.3L 445Cu. In. V8 DIESEL OHV Turbocharged | |
| 2002 | Ford | F-250 Super Duty | XL Crew Cab Pickup 4-Door | 6.8L 415Cu. In. V10 GAS SOHC Naturally Aspirated | |
| 2002 | Ford | F-250 Super Duty | XL Extended Cab Pickup 4-Door | 6.8L 415Cu. In. V10 GAS SOHC Naturally Aspirated | |
| 2002 | Ford | F-250 Super Duty | XL Standard Cab Pickup 2-Door | 5.4L 330Cu. In. V8 GAS SOHC Naturally Aspirated | |
| 2002 | Ford | F-250 Super Duty | XL Standard Cab Pickup 2-Door | 7.3L 445Cu. In. V8 DIESEL OHV Turbocharged | |
| 2002 | Ford | F-250 Super Duty | Lariat Extended Cab Pickup 4-Door | 6.8L 415Cu. In. V10 GAS SOHC Naturally Aspirated | |
| 2002 | Ford | F-250 Super Duty | Lariat Crew Cab Pickup 4-Door | 7.3L 445Cu. In. V8 DIESEL OHV Turbocharged | |
| 2002 | Ford | F-250 Super Duty | XLT Standard Cab Pickup 2-Door | 6.8L 415Cu. In. V10 GAS SOHC Naturally Aspirated | |
| 2002 | Ford | F-250 Super Duty | XL Standard Cab Pickup 2-Door | 6.8L 415Cu. In. V10 GAS SOHC Naturally Aspirated | |
| 2002 | Ford | F-250 Super Duty | XLT Standard Cab Pickup 2-Door | 7.3L 445Cu. In. V8 DIESEL OHV Turbocharged | |
| 2002 | Ford | F-250 Super Duty | XL Crew Cab Pickup 4-Door | 7.3L 445Cu. In. V8 DIESEL OHV Turbocharged | |
| 2002 | Ford | F-250 Super Duty | Lariat Crew Cab Pickup 4-Door | 5.4L 330Cu. In. V8 GAS SOHC Naturally Aspirated | |
| 2002 | Ford | F-250 Super Duty | XLT Crew Cab Pickup 4-Door | 5.4L 330Cu. In. V8 GAS SOHC Naturally Aspirated | |
| 2002 | Ford | F-250 Super Duty | Lariat Crew Cab Pickup 4-Door | 6.8L 415Cu. In. V10 GAS SOHC Naturally Aspirated | |
| 2002 | Ford | F-250 Super Duty | XLT Crew Cab Pickup 4-Door | 6.8L 415Cu. In. V10 GAS SOHC Naturally Aspirated | |
| 2002 | Ford | F-250 Super Duty | XL Extended Cab Pickup 4-Door | 7.3L 445Cu. In. V8 DIESEL OHV Turbocharged | |
| 2002 | Ford | F-250 Super Duty | XLT Crew Cab Pickup 4-Door | 7.3L 445Cu. In. V8 DIESEL OHV Turbocharged | |
| 2002 | Ford | F-250 Super Duty | XLT Extended Cab Pickup 4-Door | 5.4L 330Cu. In. V8 GAS SOHC Naturally Aspirated | |
| 2002 | Ford | F-250 Super Duty | XL Crew Cab Pickup 4-Door | 5.4L 330Cu. In. V8 GAS SOHC Naturally Aspirated | |
| 2003 | Ford | F-250 Super Duty | Lariat Extended Cab Pickup 4-Door | 7.3L 445Cu. In. V8 DIESEL OHV Turbocharged | |
| 2003 | Ford | F-250 Super Duty | XLT Crew Cab Pickup 4-Door | 7.3L 445Cu. In. V8 DIESEL OHV Turbocharged | |
| 2003 | Ford | F-250 Super Duty | XLT Standard Cab Pickup 2-Door | 7.3L 445Cu. In. V8 DIESEL OHV Turbocharged | |
| 2003 | Ford | F-250 Super Duty | XL Standard Cab Pickup 2-Door | 7.3L 445Cu. In. V8 DIESEL OHV Turbocharged | |
| 2003 | Ford | F-250 Super Duty | Lariat Crew Cab Pickup 4-Door | 7.3L 445Cu. In. V8 DIESEL OHV Turbocharged | |
| 2003 | Ford | F-250 Super Duty | XL Extended Cab Pickup 4-Door | 7.3L 445Cu. In. V8 DIESEL OHV Turbocharged | |
| 2003 | Ford | F-250 Super Duty | XL Crew Cab Pickup 4-Door | 7.3L 445Cu. In. V8 DIESEL OHV Turbocharged | |
| 2003 | Ford | F-250 Super Duty | XLT Extended Cab Pickup 4-Door | 7.3L 445Cu. In. V8 DIESEL OHV Turbocharged | |