Details
2003 Ford F350 6.0L Powerstroke diesel engine the motor.  The motor was removed from a truck that was involved in an accident, the engine was running when we removed it.  It ran smoothly and there was no major blow by when the cap was removed while it was running.  The truck had 190k miles. 
The motor was removed from an 03 with the icp sensor at the back so it works in early 04.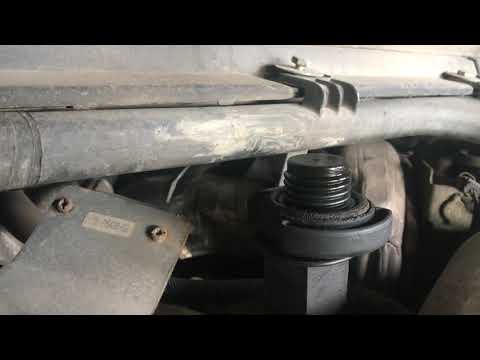 At16099 Ford F350 6.0L Powerstroke engine - YouTube
Video will open in a new window
Using the eBay App? Paste link into a browser window:
[isdntekvideo]
Warranty: there is a 90 day warranty on the long block.  This doesn't include any accessories, fuel system, turbo or wiring
Please use the compatibility guide is a loose guideline please confirm that this part is the right one for your vehicle before purchasing.

Shipping:  Part will be dropped off at a packaging depot within 3 business days and a tracking number will be uploaded to eBay 2 days later. This part will be shipped as freight. A business address with a forklift must be provided. If a forklift is not available, there will be an additional $50 fee for liftgate service. If a business address is not provided, it will be delivered to the nearest depot for pick up. 

Disclaimer: This engine was removed from a vehicle purchased from an auction, and was not road tested or driven before removing. As such, any issues that occur after installing will not be covered under the eBay Buyer Protection Plan, it will fall under our warranty stated below.

Warranty: There is a 90 day warranty on the long block, this does not include the fuel system, turbo or accessories. Buyer will be responsible for all shipping costs.
Parting out lots of 1999-2010 Ford F350's please message me if you have any questions regarding this listing or any other parts requests.
Fitment Details
| Year | Make | Model | Trim | Engine | Notes |
| --- | --- | --- | --- | --- | --- |
| 2003 | Ford | F-250 Super Duty | XL Standard Cab Pickup 2-Door | 6.0L 363Cu. In. V8 DIESEL OHV Turbocharged | |
| 2003 | Ford | F-250 Super Duty | Lariat Extended Cab Pickup 4-Door | 6.0L 363Cu. In. V8 DIESEL OHV Turbocharged | |
| 2003 | Ford | F-250 Super Duty | XL Extended Cab Pickup 4-Door | 6.0L 363Cu. In. V8 DIESEL OHV Turbocharged | |
| 2003 | Ford | F-250 Super Duty | Lariat Crew Cab Pickup 4-Door | 6.0L 363Cu. In. V8 DIESEL OHV Turbocharged | |
| 2003 | Ford | F-250 Super Duty | XLT Standard Cab Pickup 2-Door | 6.0L 363Cu. In. V8 DIESEL OHV Turbocharged | |
| 2003 | Ford | F-250 Super Duty | XLT Extended Cab Pickup 4-Door | 6.0L 363Cu. In. V8 DIESEL OHV Turbocharged | |
| 2003 | Ford | F-250 Super Duty | XLT Crew Cab Pickup 4-Door | 6.0L 363Cu. In. V8 DIESEL OHV Turbocharged | |
| 2003 | Ford | F-250 Super Duty | XL Crew Cab Pickup 4-Door | 6.0L 363Cu. In. V8 DIESEL OHV Turbocharged | |
| 2004 | Ford | F-250 Super Duty | Harley-Davidson Edition Extended Cab Pickup 4-Door | 6.0L 363Cu. In. V8 DIESEL OHV Turbocharged | |
| 2004 | Ford | F-250 Super Duty | XLT Extended Cab Pickup 4-Door | 6.0L 363Cu. In. V8 DIESEL OHV Turbocharged | |
| 2004 | Ford | F-250 Super Duty | Lariat Crew Cab Pickup 4-Door | 6.0L 363Cu. In. V8 DIESEL OHV Turbocharged | |
| 2004 | Ford | F-250 Super Duty | XL Standard Cab Pickup 2-Door | 6.0L 363Cu. In. V8 DIESEL OHV Turbocharged | |
| 2004 | Ford | F-250 Super Duty | XL Extended Cab Pickup 4-Door | 6.0L 363Cu. In. V8 DIESEL OHV Turbocharged | |
| 2004 | Ford | F-250 Super Duty | King Ranch Crew Cab Pickup 4-Door | 6.0L 363Cu. In. V8 DIESEL OHV Turbocharged | |
| 2004 | Ford | F-250 Super Duty | Harley-Davidson Edition Crew Cab Pickup 4-Door | 6.0L 363Cu. In. V8 DIESEL OHV Turbocharged | |
| 2004 | Ford | F-250 Super Duty | XL Crew Cab Pickup 4-Door | 6.0L 363Cu. In. V8 DIESEL OHV Turbocharged | |
| 2004 | Ford | F-250 Super Duty | XLT Standard Cab Pickup 2-Door | 6.0L 363Cu. In. V8 DIESEL OHV Turbocharged | |
| 2004 | Ford | F-250 Super Duty | XLT Crew Cab Pickup 4-Door | 6.0L 363Cu. In. V8 DIESEL OHV Turbocharged | |
| 2004 | Ford | F-250 Super Duty | Lariat Extended Cab Pickup 4-Door | 6.0L 363Cu. In. V8 DIESEL OHV Turbocharged | |
| 2003 | Ford | F-350 Super Duty | Lariat Extended Cab Pickup 4-Door | 6.8L 415Cu. In. V10 GAS SOHC Naturally Aspirated | |
| 2003 | Ford | F-350 Super Duty | Lariat Crew Cab Pickup 4-Door | 5.4L 330Cu. In. V8 GAS SOHC Naturally Aspirated | |
| 2003 | Ford | F-350 Super Duty | XLT Extended Cab Pickup 4-Door | 6.0L 363Cu. In. V8 DIESEL OHV Turbocharged | |
| 2003 | Ford | F-350 Super Duty | Lariat Extended Cab Pickup 4-Door | 7.3L 445Cu. In. V8 DIESEL OHV Turbocharged | |
| 2003 | Ford | F-350 Super Duty | XLT Standard Cab Pickup 2-Door | 6.0L 363Cu. In. V8 DIESEL OHV Turbocharged | |
| 2003 | Ford | F-350 Super Duty | XL Extended Cab Pickup 4-Door | 6.8L 415Cu. In. V10 GAS SOHC Naturally Aspirated | |
| 2003 | Ford | F-350 Super Duty | XL Extended Cab Pickup 4-Door | 6.0L 363Cu. In. V8 DIESEL OHV Turbocharged | |
| 2003 | Ford | F-350 Super Duty | XLT Cab & Chassis 4-Door | 7.3L 445Cu. In. V8 DIESEL OHV Turbocharged | |
| 2003 | Ford | F-350 Super Duty | XL Cab & Chassis 2-Door | 6.0L 363Cu. In. V8 DIESEL OHV Turbocharged | |
| 2003 | Ford | F-350 Super Duty | Lariat Crew Cab Pickup 4-Door | 6.0L 363Cu. In. V8 DIESEL OHV Turbocharged | |
| 2003 | Ford | F-350 Super Duty | XL Extended Cab Pickup 4-Door | 7.3L 445Cu. In. V8 DIESEL OHV Turbocharged | |
| 2003 | Ford | F-350 Super Duty | XL Crew Cab Pickup 4-Door | 7.3L 445Cu. In. V8 DIESEL OHV Turbocharged | |
| 2003 | Ford | F-350 Super Duty | XLT Cab & Chassis 2-Door | 7.3L 445Cu. In. V8 DIESEL OHV Turbocharged | |
| 2003 | Ford | F-350 Super Duty | XLT Cab & Chassis 4-Door | 6.8L 415Cu. In. V10 GAS SOHC Naturally Aspirated | |
| 2003 | Ford | F-350 Super Duty | XLT Cab & Chassis 4-Door | 5.4L 330Cu. In. V8 GAS SOHC Naturally Aspirated | |
| 2003 | Ford | F-350 Super Duty | Lariat Extended Cab Pickup 4-Door | 5.4L 330Cu. In. V8 GAS SOHC Naturally Aspirated | |
| 2003 | Ford | F-350 Super Duty | XLT Standard Cab Pickup 2-Door | 6.8L 415Cu. In. V10 GAS SOHC Naturally Aspirated | |
| 2003 | Ford | F-350 Super Duty | XL Standard Cab Pickup 2-Door | 5.4L 330Cu. In. V8 GAS SOHC Naturally Aspirated | |
| 2003 | Ford | F-350 Super Duty | XLT Crew Cab Pickup 4-Door | 5.4L 330Cu. In. V8 GAS SOHC Naturally Aspirated | |
| 2003 | Ford | F-350 Super Duty | XLT Standard Cab Pickup 2-Door | 7.3L 445Cu. In. V8 DIESEL OHV Turbocharged | |
| 2003 | Ford | F-350 Super Duty | XLT Extended Cab Pickup 4-Door | 7.3L 445Cu. In. V8 DIESEL OHV Turbocharged | |
| 2003 | Ford | F-350 Super Duty | XLT Crew Cab Pickup 4-Door | 6.8L 415Cu. In. V10 GAS SOHC Naturally Aspirated | |
| 2003 | Ford | F-350 Super Duty | XL Crew Cab Pickup 4-Door | 5.4L 330Cu. In. V8 GAS SOHC Naturally Aspirated | |
| 2003 | Ford | F-350 Super Duty | Lariat Extended Cab Pickup 4-Door | 6.0L 363Cu. In. V8 DIESEL OHV Turbocharged | |
| 2003 | Ford | F-350 Super Duty | XL Cab & Chassis 4-Door | 6.0L 363Cu. In. V8 DIESEL OHV Turbocharged | |
| 2003 | Ford | F-350 Super Duty | XLT Standard Cab Pickup 2-Door | 5.4L 330Cu. In. V8 GAS SOHC Naturally Aspirated | |
| 2003 | Ford | F-350 Super Duty | Lariat Cab & Chassis 4-Door | 6.0L 363Cu. In. V8 DIESEL OHV Turbocharged | |
| 2003 | Ford | F-350 Super Duty | Lariat Cab & Chassis 2-Door | 5.4L 330Cu. In. V8 GAS SOHC Naturally Aspirated | |
| 2003 | Ford | F-350 Super Duty | XL Standard Cab Pickup 2-Door | 6.8L 415Cu. In. V10 GAS SOHC Naturally Aspirated | |
| 2003 | Ford | F-350 Super Duty | XL Standard Cab Pickup 2-Door | 7.3L 445Cu. In. V8 DIESEL OHV Turbocharged | |
| 2003 | Ford | F-350 Super Duty | XLT Cab & Chassis 2-Door | 5.4L 330Cu. In. V8 GAS SOHC Naturally Aspirated | |
| 2003 | Ford | F-350 Super Duty | Lariat Cab & Chassis 2-Door | 7.3L 445Cu. In. V8 DIESEL OHV Turbocharged | |
| 2003 | Ford | F-350 Super Duty | XL Cab & Chassis 4-Door | 7.3L 445Cu. In. V8 DIESEL OHV Turbocharged | |
| 2003 | Ford | F-350 Super Duty | XL Cab & Chassis 2-Door | 7.3L 445Cu. In. V8 DIESEL OHV Turbocharged | |
| 2003 | Ford | F-350 Super Duty | Lariat Cab & Chassis 4-Door | 7.3L 445Cu. In. V8 DIESEL OHV Turbocharged | |
| 2003 | Ford | F-350 Super Duty | Lariat Cab & Chassis 4-Door | 5.4L 330Cu. In. V8 GAS SOHC Naturally Aspirated | |
| 2003 | Ford | F-350 Super Duty | Lariat Crew Cab Pickup 4-Door | 7.3L 445Cu. In. V8 DIESEL OHV Turbocharged | |
| 2003 | Ford | F-350 Super Duty | Lariat Cab & Chassis 2-Door | 6.8L 415Cu. In. V10 GAS SOHC Naturally Aspirated | |
| 2003 | Ford | F-350 Super Duty | XL Cab & Chassis 2-Door | 5.4L 330Cu. In. V8 GAS SOHC Naturally Aspirated | |
| 2003 | Ford | F-350 Super Duty | Lariat Cab & Chassis 2-Door | 6.0L 363Cu. In. V8 DIESEL OHV Turbocharged | |
| 2003 | Ford | F-350 Super Duty | XL Extended Cab Pickup 4-Door | 5.4L 330Cu. In. V8 GAS SOHC Naturally Aspirated | |
| 2003 | Ford | F-350 Super Duty | XLT Cab & Chassis 4-Door | 6.0L 363Cu. In. V8 DIESEL OHV Turbocharged | |
| 2003 | Ford | F-350 Super Duty | XL Cab & Chassis 4-Door | 5.4L 330Cu. In. V8 GAS SOHC Naturally Aspirated | |
| 2003 | Ford | F-350 Super Duty | Lariat Cab & Chassis 4-Door | 6.8L 415Cu. In. V10 GAS SOHC Naturally Aspirated | |
| 2003 | Ford | F-350 Super Duty | XLT Crew Cab Pickup 4-Door | 7.3L 445Cu. In. V8 DIESEL OHV Turbocharged | |
| 2003 | Ford | F-350 Super Duty | XLT Cab & Chassis 2-Door | 6.8L 415Cu. In. V10 GAS SOHC Naturally Aspirated | |
| 2003 | Ford | F-350 Super Duty | XLT Cab & Chassis 2-Door | 6.0L 363Cu. In. V8 DIESEL OHV Turbocharged | |
| 2003 | Ford | F-350 Super Duty | XL Crew Cab Pickup 4-Door | 6.8L 415Cu. In. V10 GAS SOHC Naturally Aspirated | |
| 2003 | Ford | F-350 Super Duty | XLT Crew Cab Pickup 4-Door | 6.0L 363Cu. In. V8 DIESEL OHV Turbocharged | |
| 2003 | Ford | F-350 Super Duty | XLT Extended Cab Pickup 4-Door | 6.8L 415Cu. In. V10 GAS SOHC Naturally Aspirated | |
| 2003 | Ford | F-350 Super Duty | XL Standard Cab Pickup 2-Door | 6.0L 363Cu. In. V8 DIESEL OHV Turbocharged | |
| 2003 | Ford | F-350 Super Duty | XL Cab & Chassis 4-Door | 6.8L 415Cu. In. V10 GAS SOHC Naturally Aspirated | |
| 2003 | Ford | F-350 Super Duty | XL Crew Cab Pickup 4-Door | 6.0L 363Cu. In. V8 DIESEL OHV Turbocharged | |
| 2003 | Ford | F-350 Super Duty | Lariat Crew Cab Pickup 4-Door | 6.8L 415Cu. In. V10 GAS SOHC Naturally Aspirated | |
| 2003 | Ford | F-350 Super Duty | XLT Extended Cab Pickup 4-Door | 5.4L 330Cu. In. V8 GAS SOHC Naturally Aspirated | |
| 2003 | Ford | F-350 Super Duty | XL Cab & Chassis 2-Door | 6.8L 415Cu. In. V10 GAS SOHC Naturally Aspirated | |
| 2004 | Ford | F-350 Super Duty | King Ranch Crew Cab Pickup 4-Door | 6.8L 415Cu. In. V10 GAS SOHC Naturally Aspirated | |
| 2004 | Ford | F-350 Super Duty | XLT Extended Cab Pickup 4-Door | 5.4L 330Cu. In. V8 GAS SOHC Naturally Aspirated | |
| 2004 | Ford | F-350 Super Duty | Lariat Extended Cab Pickup 4-Door | 6.0L 363Cu. In. V8 DIESEL OHV Turbocharged | |
| 2004 | Ford | F-350 Super Duty | XLT Crew Cab Pickup 4-Door | 6.0L 363Cu. In. V8 DIESEL OHV Turbocharged | |
| 2004 | Ford | F-350 Super Duty | XLT Standard Cab Pickup 2-Door | 6.8L 415Cu. In. V10 GAS SOHC Naturally Aspirated | |
| 2004 | Ford | F-350 Super Duty | XLT Standard Cab Pickup 2-Door | 6.0L 363Cu. In. V8 DIESEL OHV Turbocharged | |
| 2004 | Ford | F-350 Super Duty | King Ranch Crew Cab Pickup 4-Door | 5.4L 330Cu. In. V8 GAS SOHC Naturally Aspirated | |
| 2004 | Ford | F-350 Super Duty | Lariat Cab & Chassis 4-Door | 6.8L 415Cu. In. V10 GAS SOHC Naturally Aspirated | |
| 2004 | Ford | F-350 Super Duty | Lariat Cab & Chassis 2-Door | 5.4L 330Cu. In. V8 GAS SOHC Naturally Aspirated | |
| 2004 | Ford | F-350 Super Duty | XLT Cab & Chassis 4-Door | 6.8L 415Cu. In. V10 GAS SOHC Naturally Aspirated | |
| 2004 | Ford | F-350 Super Duty | XL Cab & Chassis 2-Door | 6.0L 363Cu. In. V8 DIESEL OHV Turbocharged | |
| 2004 | Ford | F-350 Super Duty | Harley-Davidson Edition Crew Cab Pickup 4-Door | 6.8L 415Cu. In. V10 GAS SOHC Naturally Aspirated | |
| 2004 | Ford | F-350 Super Duty | Harley-Davidson Edition Extended Cab Pickup 4-Door | 6.0L 363Cu. In. V8 DIESEL OHV Turbocharged | |
| 2004 | Ford | F-350 Super Duty | XL Crew Cab Pickup 4-Door | 5.4L 330Cu. In. V8 GAS SOHC Naturally Aspirated | |
| 2004 | Ford | F-350 Super Duty | XL Standard Cab Pickup 2-Door | 6.0L 363Cu. In. V8 DIESEL OHV Turbocharged | |
| 2004 | Ford | F-350 Super Duty | XL Cab & Chassis 2-Door | 6.8L 415Cu. In. V10 GAS SOHC Naturally Aspirated | |
| 2004 | Ford | F-350 Super Duty | Lariat Cab & Chassis 2-Door | 6.8L 415Cu. In. V10 GAS SOHC Naturally Aspirated | |
| 2004 | Ford | F-350 Super Duty | XLT Cab & Chassis 2-Door | 6.0L 363Cu. In. V8 DIESEL OHV Turbocharged | |
| 2004 | Ford | F-350 Super Duty | Lariat Cab & Chassis 4-Door | 6.0L 363Cu. In. V8 DIESEL OHV Turbocharged | |
| 2004 | Ford | F-350 Super Duty | Lariat Crew Cab Pickup 4-Door | 6.0L 363Cu. In. V8 DIESEL OHV Turbocharged | |
| 2004 | Ford | F-350 Super Duty | XL Extended Cab Pickup 4-Door | 5.4L 330Cu. In. V8 GAS SOHC Naturally Aspirated | |
| 2004 | Ford | F-350 Super Duty | XL Crew Cab Pickup 4-Door | 6.8L 415Cu. In. V10 GAS SOHC Naturally Aspirated | |
| 2004 | Ford | F-350 Super Duty | Lariat Crew Cab Pickup 4-Door | 6.8L 415Cu. In. V10 GAS SOHC Naturally Aspirated | |
| 2004 | Ford | F-350 Super Duty | XL Extended Cab Pickup 4-Door | 6.0L 363Cu. In. V8 DIESEL OHV Turbocharged | |
| 2004 | Ford | F-350 Super Duty | Lariat Extended Cab Pickup 4-Door | 6.8L 415Cu. In. V10 GAS SOHC Naturally Aspirated | |
| 2004 | Ford | F-350 Super Duty | XLT Extended Cab Pickup 4-Door | 6.0L 363Cu. In. V8 DIESEL OHV Turbocharged | |
| 2004 | Ford | F-350 Super Duty | XL Cab & Chassis 4-Door | 6.8L 415Cu. In. V10 GAS SOHC Naturally Aspirated | |
| 2004 | Ford | F-350 Super Duty | XL Cab & Chassis 4-Door | 6.0L 363Cu. In. V8 DIESEL OHV Turbocharged | |
| 2004 | Ford | F-350 Super Duty | XLT Standard Cab Pickup 2-Door | 5.4L 330Cu. In. V8 GAS SOHC Naturally Aspirated | |
| 2004 | Ford | F-350 Super Duty | XL Crew Cab Pickup 4-Door | 6.0L 363Cu. In. V8 DIESEL OHV Turbocharged | |
| 2004 | Ford | F-350 Super Duty | Lariat Extended Cab Pickup 4-Door | 5.4L 330Cu. In. V8 GAS SOHC Naturally Aspirated | |
| 2004 | Ford | F-350 Super Duty | King Ranch Crew Cab Pickup 4-Door | 6.0L 363Cu. In. V8 DIESEL OHV Turbocharged | |
| 2004 | Ford | F-350 Super Duty | XL Standard Cab Pickup 2-Door | 6.8L 415Cu. In. V10 GAS SOHC Naturally Aspirated | |
| 2004 | Ford | F-350 Super Duty | XLT Cab & Chassis 2-Door | 5.4L 330Cu. In. V8 GAS SOHC Naturally Aspirated | |
| 2004 | Ford | F-350 Super Duty | XLT Cab & Chassis 4-Door | 5.4L 330Cu. In. V8 GAS SOHC Naturally Aspirated | |
| 2004 | Ford | F-350 Super Duty | Lariat Cab & Chassis 4-Door | 5.4L 330Cu. In. V8 GAS SOHC Naturally Aspirated | |
| 2004 | Ford | F-350 Super Duty | XLT Cab & Chassis 2-Door | 6.8L 415Cu. In. V10 GAS SOHC Naturally Aspirated | |
| 2004 | Ford | F-350 Super Duty | XL Cab & Chassis 4-Door | 5.4L 330Cu. In. V8 GAS SOHC Naturally Aspirated | |
| 2004 | Ford | F-350 Super Duty | XLT Crew Cab Pickup 4-Door | 5.4L 330Cu. In. V8 GAS SOHC Naturally Aspirated | |
| 2004 | Ford | F-350 Super Duty | XLT Cab & Chassis 4-Door | 6.0L 363Cu. In. V8 DIESEL OHV Turbocharged | |
| 2004 | Ford | F-350 Super Duty | Lariat Crew Cab Pickup 4-Door | 5.4L 330Cu. In. V8 GAS SOHC Naturally Aspirated | |
| 2004 | Ford | F-350 Super Duty | XL Extended Cab Pickup 4-Door | 6.8L 415Cu. In. V10 GAS SOHC Naturally Aspirated | |
| 2004 | Ford | F-350 Super Duty | XL Cab & Chassis 2-Door | 5.4L 330Cu. In. V8 GAS SOHC Naturally Aspirated | |
| 2004 | Ford | F-350 Super Duty | Lariat Cab & Chassis 2-Door | 6.0L 363Cu. In. V8 DIESEL OHV Turbocharged | |
| 2004 | Ford | F-350 Super Duty | Harley-Davidson Edition Crew Cab Pickup 4-Door | 6.0L 363Cu. In. V8 DIESEL OHV Turbocharged | |
| 2004 | Ford | F-350 Super Duty | XL Standard Cab Pickup 2-Door | 5.4L 330Cu. In. V8 GAS SOHC Naturally Aspirated | |
| 2004 | Ford | F-350 Super Duty | XLT Crew Cab Pickup 4-Door | 6.8L 415Cu. In. V10 GAS SOHC Naturally Aspirated | |
| 2004 | Ford | F-350 Super Duty | Harley-Davidson Edition Extended Cab Pickup 4-Door | 6.8L 415Cu. In. V10 GAS SOHC Naturally Aspirated | |
| 2004 | Ford | F-350 Super Duty | XLT Extended Cab Pickup 4-Door | 6.8L 415Cu. In. V10 GAS SOHC Naturally Aspirated | |